Summer Term!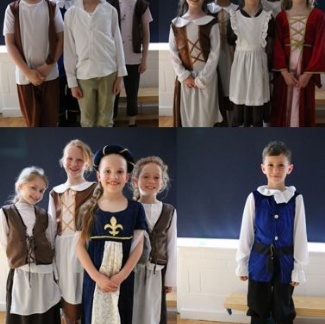 A very warm, and sunny welcome back after the Easter Holidays. We hope you all had a lovely rest over those two weeks - and the children are all ready and raring for the busy term ahead of them.
This term, our topic is Tudors. We were able to start this off with a WOW afternoon. The children all enjoyed a Tudor Banquet - tasting apples and pitta bread dipped in honey. They also all got to try grape juice - some very mixed reviews!!
We have started looking at "Roots and Shoots" in science. This started with the children planning their own experiments after learning the 6 main requirements a plant needs to grow. We have plants hidden in the cupboard, some being spoken to everyday and even one poor plant in the freezer! All in the name of Science.
In maths we are moving on to look at time so please be encouraging your children to look at clocks and tell the time whenever possible. As ever, there is a big focus on times tables too - so please support your children with learning these.
Thank you for your continued support. If there is anything you need help with, please contact Miss Collen or Mrs Howley.