WB 18.03.19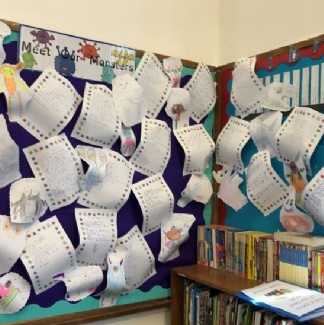 All of the children are still working hard and making Miss Collen proud, everyday!
It was lovely to meet with the parents at parents evening on Tuesday. If you have any further questions please do not hesitate to contact me.
The children in Orca Class have come to the end of their poetry unit of work. We finished by writing our own poems about monsters and then showing what we had learnt by reviewing three different styles of poetry. All of the children really impressed Miss Collen and Miss Dennis by being able to identify a free verse, a narrative and a kenning poem. All of the children's monsters and poems are now proudly on the wall in the class room.
Wednesday saw three children from Orca class go to a Dance Festival with Miss Potter and three other children. Miss Potter explained how happy she was with all of the children's behaviour and praised them on their values shown throughout the day!
We are still working hard on statistics in Maths. The children are doing very well in this and have all been able to use bar charts, pictograms and tables to retrieve important information.
In Science the children learnt about condensation and evaporation. We looked at what happens when we heat a liquid and cool down a gas. All of the children created a good storyboard to show the processes of changing state.
Two weeks left before the Easter Holidays but what a jam-packed two weeks they are!!
KS2 Faith Tour - Wednesday 27th March
Easter Service - Friday29th March
Easter Experience - Monday 1st April
Mothers Day Afternoon - Monday 1st April
KS2 River Walk - Wednesday 3rd April
End of term - Friday 5th April