WB 04/03/19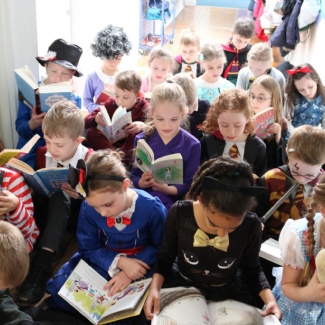 Another fun-packed week in Orca Class!
We have been learning about different types of poetry in English and the children have started to plan their own "Kenning" about an animal. A Kenning is a type of list poem that The Anglo-Saxons enjoyed. It's almost like a word game.
In maths we have been looking at 2D and 3D shapes. The children all enjoyed making 3D shapes using nets. This was a bit tricky but just required a little bit of patience (and a lot of glue!!)
On Thursday all of the children thoroughly enjoyed World Book Day, organised by Mrs Mead. We had a class full of Harry Potters, Disney Characters and even a "Gangsta Granny" who came to visit for the day.
The children in Orca class enjoyed sharing books, telling stories and explaining which character they were dressed as! Miss Collen dressed as a Crayon from "The Day The Crayons Quit!"
As a class we explored the "book museum" which was full of artefacts and clues from the teachers favourite books. The children had a go at guessing what the books were and then were able to go and enjoy their chosen favourite story. Orca class also enjoyed putting together their own comic book in the style of "A Diary of a Wimpy Kid." They shared some very funny stories with the rest of the class.
"I have a passion for teaching kids to become readers, to become comfortable with a book, not daunted. Books shouldn't be daunting, they should be funny, exciting and wonderful; and learning to be a reader gives a terrific advantage." – Roald Dahl
"The more that you read, the more things you will know. The more that you learn, the more places you'll go." – Dr. Seuss
"Reading is essential for those who seek to rise above the ordinary." – Jim

Rohn
Homework Club starts on Monday 11th March: 3:20pm - 4:20pm.