Wb 18.02.19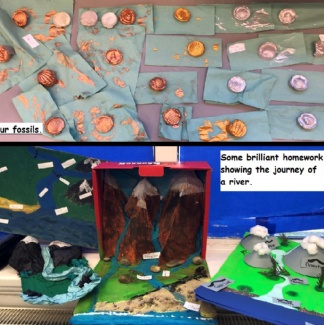 A warm welcome back to everyone after the February half term! I hope everyone had a lovely week off.
Last half term, the children were very lucky to be taught football skills by Luton Town coaches. This will continue for one more lesson on Wednesday 27th of February.
In topic we are continuing our learning about Mountains, Rivers and Coastlines. The children got to make their own fossils at the end of last half term. This was linked to our science and topic work. They thoroughly enjoyed this activity and I am sure you will agree, they have turned out brilliantly.
Thank you to those children who have completed their homework. Lots of them worked very hard on their homework and have created some beautiful models and some researched some brilliant information. It is lovely to see them applying their learning from in school, outside of school. If your children struggle with the homework, please feel free to contact Miss Collen for some help.
In maths the children are learning how to use protractors to measure angles. This is a really tricky skill but they are all working hard to do this. Ask your child about the different types of angles. I am sure they can tell you about them. They might even be able to find some around the house.
Our new unit of Science work is all about States Of Matter! The children will be investigating the differences between Solids, Liquids and Gases. They will be looking at different materials and comparing them in order to be able to classify them.
It is important your children read frequently at home and practice their spellings.