WW2 WOW Day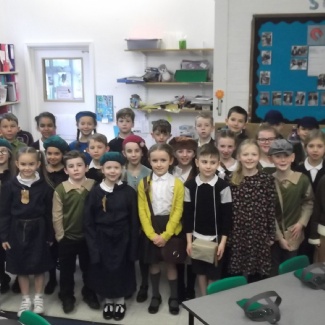 Hello and Happy New Year!
I hope you all had a wonderful break.
The children have thoroughly enjoyed our WOW morning. They have experienced a simulation of an air raid siren sounding and rushing to an air raid shelter. The corridor was pitch black and the children sat in silence in the dark, learning that if light was seen it would put us at risk. They were given boiled sweets and broken biscuits as a way of pacifying their fear throughout their time in the air raid shelter. We remained in the air raid shelter until the 'all clear' siren sounded.
We then returned to our classrooms and watched a gas mask drill take place in a primary school before making our own mock gas masks.
The children are now really enthused and eager to learn more about WW2 as our topic progresses.
Attached is a photograph of the children wearing their gas masks.