Penguin Class News 1.2.19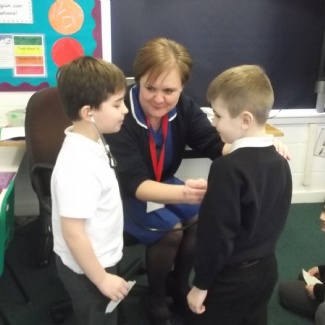 Another busy but exciting week in Penguin Class!
The children have been learning about Multiplication in our Maths lessons, and how we can use our counting in 2s, 5s and 10s to help us to count our arrays and find out the answer. We have also been practising writing 8 equations from just one array! (4 Multiplication and 4 Division)
In English the children have been learning about some different features of poetry and have been creating their own bed - time poems. They have been describing the noises that they hear in the night using extended noun phrases and also comparing their beds to different food/animals/objects and learning to use similes.
In our Topic lessons this week we have been comparing Florence Nightingale and Mary Seacole to Modern day nurses. We were extremely lucky to have one of the parents from the school who works as a nurse come in for an afternoon and spend some time with each KS1 class. The children had lots of burning questions for Mrs Weavers and they learnt a great deal. Mrs Weavers demonstrated how to use a stethoscope and some different types of bandage. The children thoroughly enjoyed this learning experience and wrote some wonderful sentences about what they have learnt afterwards.